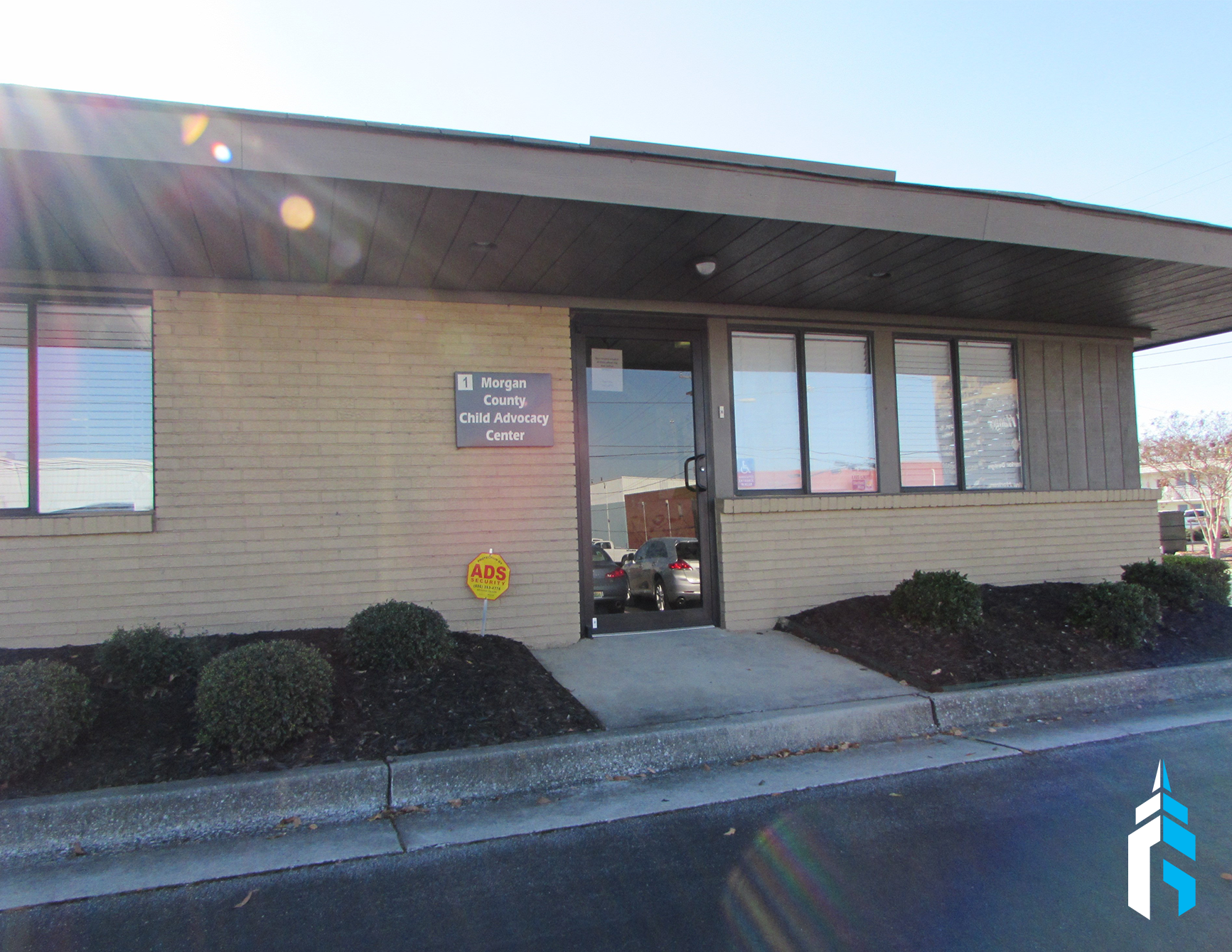 The mission of the Morgan County Advocacy Center is to provide help and healing to children.  The mission of the Morgan County Child Advocacy Center's Multidisciplinary Team, which is comprised of the District Attorney and his staff, law enforcement, the Department of Human Resources, and medical and mental health providers, is to provide excellence in the investigation, prosecution, and treatment of child abuse.
Thank you for meeting with Gateway. We like to shine a light on the tenants we have in our properties, and let our readers know about your business and what you are doing within the community.  What does MCCAC do?
We are a non-profit organization, and we receive funding from a variety of sources: City of Decatur, Morgan County Commission, United Way, federal funding administered through the Alabama Department of Economic and Community Affairs out of Montgomery, and funding from the Alabama Network of Children's Advocacy Centers.  We also rely on donations from individuals and businesses.
We provide forensic interviews, victim advocacy, and therapy to children who have been, or suspected of being abused.
The entry point into our system is through the forensic interview.  This occurs when law enforcement or DHR takes a report from someone in the community, and then they call us to do a forensic interview.  We have trained forensic interviewers who talk to the childen and elicit information about what may have happened in a very non-leading, non-threatening kind of way.  We are a very child-friendly facility, and we want children and families to feel comfortable here, especially since when they come in, they are typically in crisis.  Someone within the community cannot call us and refer for a forensic interview.  The referral has to come from law enforcement or DHR.
While the child is being interviewed by our interviewers, the caregiver (whether it be mother, father, guardian, etc.) will also be talking with our victim advocate.  Our victim advocate will continue to provide services until the case goes to trial, or until there is some determination.  We keep caregivers in our caseload past the time that law enforcement or DHR close the case.
The third service that we provide is therapy, or more specifically, Trauma-Focused Cognitive Behavioral Therapy, or TF-CBT.  We have four nationally-certified, master's-level therapists who provide TF-CBT.  This therapy is considered the 

GOLD STANDARD

for those children who have experienced trauma or sexual abuse.  We do measurement outcomes at the beginning, mid-way point, and end of therapy, and we typically see about a 90% increase in well-being, and a decrease in symptoms of trauma when the child completes therapy.  It's a really great service we provide for the community.
All of our services are free to the community because we are a non-profit and we are existing on grants and appropriations.
There's an immense need for your type of organization here in Morgan County. So many people are affected that don't have anywhere to go, and you provide those services so that they have a voice.  Thank you!
You are located in the Albany Plaza Office Complex.  When did you move there? 
We moved here in 2016.  Our previous location was a house that we owned, but we were outgrowing it.  We looked at many different properties, and this location provided everything that we needed, and leasing this space provided us more time to concentrate on our work, and less on property upkeep.
Have you been satisfied with the move?
We have been delighted to be here, and we hear great feedback from our families and caregivers that they like this environment much better than where we were before.
Was location important to you?
Location to Downtown Decatur was most important: to the courthouse, to law enforcement, etc.  They have to drive over to us, so being close was important.
Is there anything else you would like for our readers to know about, like upcoming fundraisers, etc.?
Our annual fundraiser, Chair-ity for Children, will be August 16, 2018.  We receive donated chairs that are painted, as well as artwork and silent auction items.  We ask for sponsorships from area businesses.  This is also when we announce our Champion for Children for that year.
We will also be launching our new website soon!