XEO is the first brewery to come into the Decatur area, and has created quite a buzz for craft beer enthusiasts around here.  Although still under construction until early 2018, we wanted to talk with the owner, Trey Atwood, about his business and his choice to work with Gateway to find the perfect location.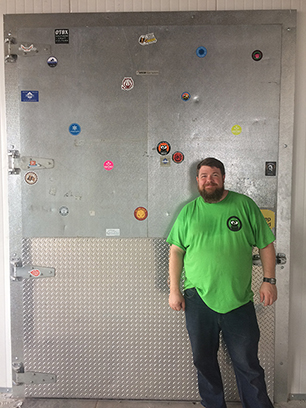 On your website, you mention taking a tour of the city to find the location for XEO.  What made you decide to choose this specific location for Decatur's first brewery?

 Because it's the right location.  We called Wally Terry when we first started looking and he showed us some potential properties around Decatur.  When we drove past this location, my wife and I both knew that it was perfect.  Right size, right location.  Wally said we'd never get it because the zoning was all wrong.  So, we took him at his word, and spent the better part of a year continuing the search, but never found anything that was as perfect.  

After a while, we came back and saw a sign in the window of the building.  We had been working with Matthew Morehead and Em Barran already touring locations, so I called them and asked them to set us up a meeting with the building owner.  We toured it and knew once we came in the door, that this was it, and we had to have it.  I asked the city at that point what we needed to do.  Once they saw we were serious about this location, they worked with us to come up with a plan to rezone the property.  We submitted our rezoning application and got approved.  It was a pretty simple process after that, and the rest fell into place. With breweries, it's critical to find the right location.  Unless you come right out of the gate with the perfect location, that's probably what takes the longest.
Talk to me about the process.  What was the hardest part of getting the brewery off the ground: concept, pitch to the city, bids for build, etc.? 

There's a lot of moving parts.  Everybody has been very professional and done their job. The city has done an excellent job of helping facilitate the project, and helping us make sure that we are doing everything they need done, but in such a way where its not a surprise or burden.  Working with the landlord and reaching an agreement, and getting all parties to talk with each other and be coordinated.  Knowing how to deal with all the little things that come up along the way, too.  

It 

is

a process, but I knew that coming into it that it was going to be a lot of work.  And that it was going to be a very organic process.  You can plan and plan and plan, and that does help, but there's only so much planning you can do.  You have to be flexible and problem solve when you do something like this.

We've enjoyed watching the progress of the brewery on your website.  What's been the coolest part of building from scratch?

All of it.  The coolest part is seeing it come together.  Honestly, I 

SAW

it when I walked in the door on day one, and to see it come to fruition and see it shape up, and see the freight elevator, and see the bar and cooler, and see the framing for the tap wall...What's my favorite part? YES.  That's my favorite part.

What sets you apart from the other breweries in the area (Madison, Huntsville, etc.)? 

We do things a little bit different.  We have a different twist.  We are using a one vessel system, and, as far as I know, we are the frist brewery in North Alabama, or actually, in the state, that is using this type of system.   We are a production brewery, and we also have a robust retail establishment.  There are a lot of breweries that don't distribute, and focus more on taproom.  We are trying to have multiple facets. 

What sets us apart: 

we make really good beer

.  We are the first over here in Decatur.  We are trying to service the community, and provide a service to a great community we think is much needed.  We are reaffirmed constantly that we are providing a service that everyone wants.  As far as we can tell,

everyone in Decatur is thirsty

.

Anything cool we should know about and share with our readers? 

We are about a month from all the stainless steel showing up.  Keep an eye on Facebook for updates as they come.  We have a lot of the major skeletal pieces in, and now we are going to start seeing finish work take form.  Then we will starting getting the brewery equipment in. It's pretty. Oh, it's so pretty!

That said, there's lots going on. Watch for the announcement for when we are going to open.  Right now, we are saying early spring, but who knows.  Opening a brewery has to be pretty flexible.  Once we finish construction, we have inspections and inspections and more inspections. After that is done, then we have to brew beer, which takes about six weeks.  We will take as long as we need so that we are ready to go once we officially open.  We don't want to run out of beer as soon as we open.
If you were looking to expand or sign another lease, would you use Gateway again? Why or why not?

Depends on how much beer Em comes and buys.  Just kidding.  Gateway provides a fantastic and professional service, and I would absolutely use them again.

 
Cross-Eyed Owl Brewing Co. will be home to a taproom with 12 beers available, a 28-foot bar, a beer garden, a stage, and a game area with foosball and darts.  You can check out their website at: www.xeobrewing.com .